Hello everyone!
We recently posted a new update to the Kickstarter (which you can find here) about what's new with the game and where you can find us next. We've launched our pledge manager as well as our Tabletop Sim version of A.E.G.I.S. and our Print & Play demos!
In terms of conventions, we've just finished up Metatopia, and next up we'll be attending PAX Unplugged. Find us at the Copper Frog Games booth and take a look at both A.E.G.I.S. and Pigment, the new game from Copper Frog which is currently on Kickstarter itself!
Below you can check up on our progress since the end of the Kickstarter. We've done a lot of work and we're on schedule for release!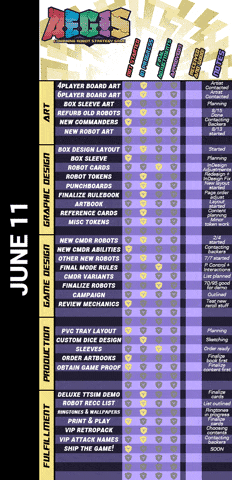 Also included in this Kickstarter update are details about the new Kickstart Dawn commanders, and a brand new short story. Check it out!
Fight and Unite!